Monday, August 27, 2012
Thursday morning 6:00am Hong Kong airport, heavy rain and 92 degrees F only gets hotter as the day progress. The Rain stops and turns to steam .. good to be back.
Later that same day: Chang Ping after dinner (at the Er Lou), Julia with her new car, and leftovers for her son Alex.
Friday morning. Storm clouds gather and move on driven by strong wind gusts.
Actually a clear day around the lake thanks to the strong winds.
Carved in Granite .. A nicely imparted warning as one could hope for.: Warm Tip: Depth danger ! For the happiness of you and your family, please do not swim leisure
Lake fishermen still ply their trade.
An extended family of lakeside labourers live in this never to be finished home. (that would, in turn make it finished)
Posted by

小 約翰
No comments:

Monday, August 06, 2012
Wrapping up a few small projects before heading back to China.
Finally managed to fabricate and install a new air vent … behind the "Goose" table (family thing) That done, the master bathroom medicine cabinet door is all that remains between me and the podium.
Medicine Cabinet fitted, that crosses off the build it projects (Sunday am 8/12) .. Off to China on Tuesday.
Posted by

小 約翰
1 comment:

Thursday, August 02, 2012
Taiwanese bubble tea shop to enter the Indian market
Staff writer, with CNA, NEW DELHI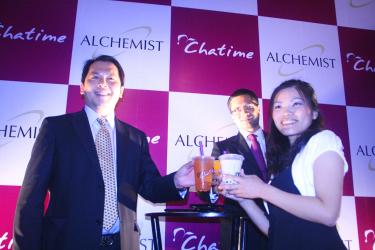 La Kaffa International chairman Henry Wang, left, smiles during the announcement on Wednesday of the first outlet in New Delhi, India, of a tea shop chain jointly run by La Kaffa's Chatime and Indian brand Alchemist. The official opening of the outlet, which will introduce Taiwanese bubble tea to India, is tomorrow.
Photo: CNA
Chatime (日出茶太), a Taiwanese bubble tea shop, is scheduled to open its first Indian outlet in New Delhi tomorrow, tapping into the younger-generation market by offering the Taiwanese specialty beverage also known as pearl milk tea.
After opening its first outlet at the Metropolis shopping center, Chatime plans to set up another one in Gurgaon, about 30km south of the capital, in the near future.
Chatime, which operates more than 750 outlets in about 50 cities in 15 countries around the world, including the US, Australia, China, Singapore, Philippines, Indonesia and Malaysia, said it was aiming to open a total of 150 outlets in India over the next five years.
GROWTH POTENTIAL
Henry Wang (王耀輝), chairman of La Kaffa International Co (六角國際), which owns Chatime, told reporters in New Delhi on Wednesday that with India's long history of tea drinking, it offers great potential for growth of new tea drinks like bubble tea, adding that Chatime is targeting the 15-to-30 age group.
MIDDLE EAST
He said Chatime also looked forward to bringing bubble tea to the Middle East in the future.
Representative to India Philip Ong (翁文祺) told a news conference that he was delighted to see bubble tea finally getting a presence in the fast-growing South Asian country.
'NEW PAGE'
Ong said Chatime is the first Taiwanese investor from the service sector to make inroads into India, a move that has turned a new page in business ties between the two countries.
India-based Alchemist Group, which serves as the agent for Chatime's tea products, said all of the tea and other ingredients for Chatime's Indian outlets would be imported directly from Taiwan.
Wang said although India was suffering widespread power outages, it had affected the manufacturing sector more than the service industry
Posted by

小 約翰
No comments: